PATTY McKAY is a jazz vocalist performing and recording with several groups in the DC area. Her style includes a wide range of jazz, from smooth and sultry ballads to sophisticated swing, to lightning fast be-bop, and even foot-stomping blues. A seasoned professional, her vocal stylings are popular with audiences of all ages.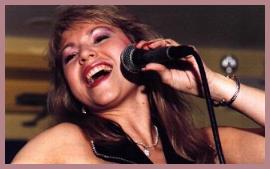 PATTY McKAY has been described as a "Great American Singer", compared to the likes of Ella Fitzgerald, Frank Sinatra, and Barbara Streisand for her ability to interpret a wide variety of songs, all with a beautiful voice, clear diction, and an "enthusiasm that is irresistible". Whether it's an intimate ballad or a swinging standard with a sizzling scat, Patty's talent shines in both small group and big band settings as she delivers each tune with her unique style. Immediately comfortable with any audience, Patty has an unparalleled ability to draw an audience into her world of elegant, sophisticated, fun, spontaneous, surprising, exciting JAZZ! In her you catch glimpses of a variety of influences spanning the decades from the 1940's through the 1990's, making her appealing to all ages. Ultimately, though, her style is all her own.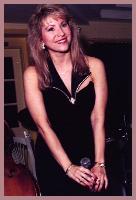 Patty has recently moved to the DC area from Los Angeles, where she sang lead with the group L.A. Jazz. Two of the group's five albums were nominated for Grammy Awards in the Jazz Vocal category. Her own jazz group, the Patty McKay Quartet, is recording and appearing weekly at many jazz clubs and festivals in the Washington DC area. As a jazz group with a huge repertoire, the Quartet provides a no-nonsense mix of reharmonized and freshly arranged jazz standards and straight-ahead jazz classics.

Patty also enjoys the power heard only in the backing of a true big band. She can be found fronting two big bands, the Music Unlimited Big Band, specializing in big band dance music, and the James Bazen Big Band, an exciting concert band with original arrangements, which has just released a CD called "Tonight He's Mine" (see details below under "Recordings".) For diversity, Patty enjoys entertaining crowds with the popular 9-piece variety band Cityscape.

As a Jazz Vocalist, Patty has performed and recorded with a number of Jazz Giants, including Ella Fitzgerald, Stan Getz, Diane Schuur, John Patitucci, Joe Williams, Tito Puente, Rosemary Clooney, Harry Connick Jr., Alan Broadbent, Dave Frishberg, Sue Raney and Bob Hope.


Patty Mckay -- The Brightest Star

1. Boogie Woogie Santa Claus
2. The Christmas Song
3. You're A Mean One, Mr. Grinch
4. Christmas Time Is Here
5. Deck The Hall
6. The Brightest Star
7. Santa Baby
8. Silent Night
9. I'll Be Home For Christmas
10. What Are You Doing New Year's Ever?
11. Let It Snow!
12. We Three Kings Of Orient Are
13. Santa Claus Is Coming To Town
14. Have Yourself A merry Little Christmas


This recording features jazz arrangements of holiday standards, new and old for kids from age 1 to 92! Musicians on the date include Patty McKay - vocals, Dan La Maestra - piano, Peter Revell - bass, and Dominic Smith - drums.

PM Productions
15020 Fells Bridge Place
Haymarket, VA 20169
(703) 753-0701
email: pattymckay@aol.com